Oriģinālo audio sistēmu attīstība
Vērojot pēdējās tendences, izskatās, ka auto ražotāji ir sākuši novērtēt to, ka klientam, pērkot jaunu auto, vajag kaut ko vairāk par 2 skaļruņiem un CD-resīveru. Varbūt pārpīlēju, jo navigācija un DVD atskaņošana jau bija pieejama, pat daudzkanālu skaņa. Bet tomēr tās lietas ienāca ar tādu kā kavēšanos. Tagad jau tomēr parādās jau arī tiešām aktuālas funkcijas. Lai gan DivX vēl tomēr kavējas. Aplūkosim, kas tad ir tas īpašais, kas pēdējā laikā ienācies.
Chrysler Sebring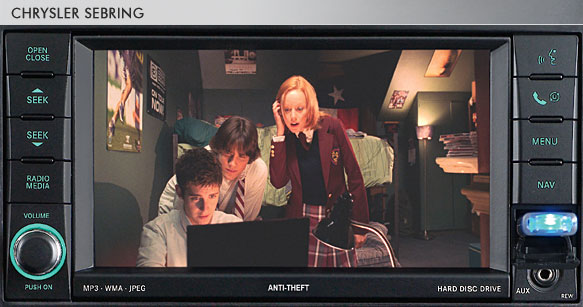 Patreiz nu dikti reklamējas. Un tieši to, ka ir pieejama īpaša multimediju sistēma. Un tā tiešām ir īpaša, jo tajā ir navigācijas sistēma, tā atskaņo DVD-video diskus, tai ir lineārā ieeja ar minijack spraudni uz priekšējā paneļa, turpat blakus ir USB slots. Diskus, cik saprotu, var ielikt uzreiz 6, jo tajā galvas aparātā ir iebūvēts arī mainītājs. Pie tam aparātā ir iebūvēts 20GB disks gan navigācijas kartēm, gan MP3, WMA, JPEG failiem. Aparāts aprīkots ar 6.5" skārienjutīgu displeju. Pie tam iespējama sistēmas balss vadība. Vēl ir iespējams pievienot otru 7" ekrānu aizmugurē sēdošajiem, kam blakus arī ir lineārā ieeja un ir pievienotas divas bezvadu austiņas. Tas viss tapis sadarbībā ar Harman/Kardon.
Mitsubishi
Jau ir pieejams Mitsubishi Pajero ar līdzīgu sistēmu Chrysler Sebring multimediju sistēmai. Toties jaunajā Outlander ir iets tālāk, jo tur ir pielikts klāt pilnvērtīgs 10" liela gājiena sabvūfers. Par to visu parūpējies Rockford-Fosgate.
Mercedes jaunā C klase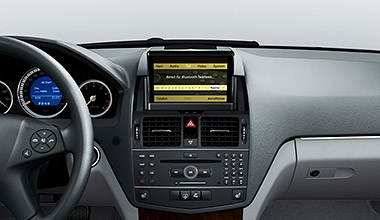 Arī Mercedes neguļ, un piedāvā multimediju sistēmu ar iebūvētu 30GB cieto disku. Pie tam tā saprotas ne tikai ar DVD-video diskiem, bet arī DVD-audio diskiem. Multimediju sistēmas ekrāns ir izbīdāms, atšķirībā no iepriekš minētajām sistēmām. Turklāt sistēmai ir arī Bluetooth funkcija, kas nodrošina brīvroku sarunu sistēmu mobilajam telefonam.
Ferrari 612 Scaglietti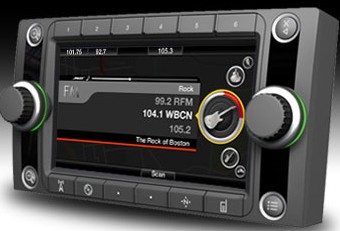 Bose sadarbībā ar Ferrari ir pārspējusi visus pārējos, jo no viņu sistēmas varēs ne tikai vadīt iPod, pievienot USB datu nesējus, skatīties DVD-video, klausīties DVD-audio, arī Bluetooth savienojums ir, un, protams, cietais disks, navigācija un vēl nez kas, bet, kas man šķita jau visinteresantākais, ka iespējams atskaņot arī SACD diskus, ko vēl nespēj pat neviens aftermarket auto paredzēts atskaņotājs. Vismaz es tādu nezinu.
Izskatās, ka drīzumā, pērkot auto, nebūs īpaša vajadzība vairs ko mainīt, vismaz ne signāla avotu. Līdz ar to nebūs jāsatraucas par garantijām utml.