Real Sound Lab ConeQ testa rezultāti PILNĀ VERSIJA
Mēs jau publicējām raksta pirmo versiju, kas bija diezgan izrediģēta, jo gaidījām RSL komentārus par pilnajiem testa rezultātiem. Ir pagājuši vairāki mēneši, no RSL komentāri nesekoja, diemžēl. Tādēļ publicējam testa rezultātu pilno versiju.

Ievads.
Neskatoties uz to, ka Real Sound Lab SIA, kas piedāvā Coneq (TM) tehnoloģiju, atrodas burtiski dažu metru attālumā no manas ikdienas darbavietas, informācija par 'izgudrojumu' bija ļoti, ļoti ierobežota. Kādēļ pēdiņās? Tādēļ, ka vēl līdz šim brīdim (vismaz man) nav īsti skaidrības, kas ir ietverts šajā jaunievedumā. Ja/kad kāda no Patentu padomēm apstiprinās patentu, visi, kas vēlas, varēs iepazīties un tapt izglītotāki. Līdz tam nāksies aprobežoties ar izgudrotāja Raimonda Skuruļa krietni virs vidusmēra sarunās pieņemta skaļuma izteiktas frāzes par tēmu: '..tad es nomērīju līkni, kurā kaut kas bija..'. Pašsaprotami, ka tāda (iespējams, apzināti pārspīlēta) noslēpumainība tikai vairo interesi par produktu. Tādēļ virkne vortāla www.mobileaudio.lv entuziastu brīvdienā pulcējās, lai klātienē izvērtētu Coneq (TM) tehnoloģijas sniegtās iespējas. Iekārtu laipni piedāvāja Viesturs Sosārs, kurš ir šī projekta biznesa eņģelis, virzītājs, un vadītājs.
Ceru, ka neizpaudīšu īpaši slepenu informāciju, īsi atklājot tehnoloģijas vēsturi. Dažu formālu iemeslu dēļ neminēšu konkrētus gadskaitļus.
• Izgudrotājs atklāj akustisko mērījumu metodi un izstrādā matemātisko modeli Mathlab vidē.
• Uzņēmums uz advancētu skaņas karšu bāzes izstrādā pirmās paaudzes 2 kanālu Coneq iekārtu, nepieciešamo algoritmu ievadot skaņas kartes DSP procesorā. • Tiek izgatavots 8 kanālu eksperimentālais modelis.
• Izmantojot diskrētus komponentus (ADC, DAC, DSP) tiek izstrādāta esošā Coneq platforma – iespiedplate ar pašmāju programnodošinājumu.
• Tiek izstrādāts tehnoloģijas programnodrošinājuma variants PC un Mac lietotājiem (bez nepieciešamības izmantot ārējas iekārtas).
• Tiek uzsākta iekārtu ražošana nelielās partijās un programnodrošinājuma tirdzniecība interneta vidē.
• Iekārta tiek paplašināta ar ciparu signālu IN/OUT (integrēta papildmoduļa veidā).

Ņemot vērā to, ka šis plānotais eksperiments bija orientēts uz tehnoloģijas basic iespēju izpēti, izvēlējos 'analogo' iekārtu, bez ciparotajām ieejām/izejām. p.s. turpmāk vienkāršībai atļaušos lietot apzīmējumus RSL (Real Sound Lab SIA vai Real Sound Lab LLC vietā), Coneq (nenorādot TM) u.c.
Coneq.
Coneq ir daudzjoslu automatizēts ALF (lineāro kropļojumu) kompensēšanas rīks (prasti runājot – ekvalaizers). Joslu skaits: līdz 4096. filtru tips: FIR.
Īss funkcionalitātes apraksts. Aprīkojums:
Darbs online režīmā: nav;
Krosovers/i: nav;
Dinamiskā apstrāde: nav;
Laika aizturu menedžments: nav;
Iespēja strādāt autonomi (neizmantojot PC un kvalitatīvu skaņas karti): nav;
Iespēja izmantot vairākus/ autonomi pārslēgt presetus: nav;
Jebkādas papildus funkcijas – spektra analizators, trokšņu/sweep ģenerators, u.t.t.: nav.

Atvainojos par skarbumu, bet, izstrādājot šo produktu, nav darīts nekas, kas atvieglotu darbu ar šo rīku (pat elementāras lietas – presetu banka, vai iebūvēto resursu – ADC, DSP izmantošana vienkāršotai kalibrēšanai/koriģēšanai). Interneta vidē pavīdējusī reklāma, kas salīdzina iPhone ar akmeni, ir tieši attiecināma, ja salīdzina šo produktu ar kādu no mūsdienīgiem (pēdējās desmitgades, pat vecākiem) signālu apstrādes procesoriem. Tikai ar sekojošu niansi – bez jebkādas humora vai sarkasma piedevas. Coneq nav nekā no pašsaprotamām lietām. Vai vienīgā – īpašais AFL korekcijas algoritms ir tā vērts, lai maksātu 5X dārgāk kā par Behringer DEQ/DCX2496, kas satur AFL auto korekcijas (arī daudzos telpas punktos) sistēmu, krosoverus, papildus ekvalaizerus, spektra analizatoru, presetu bankas, autonomas darbības iespējas (trokšņu ģeneratoru, references mikrofona ieejas), 6 aktīvās joslas, u.t.t.? Skatīsim un vērtēsim.
Izpakojot produktu, secinu, ka vienīgais, kas bojā pirmo iespaidu, ir konkrētā eksemplāra īpatnība: aizmugures panelī XLR spraudņi īsti nav 'ierakstījušies' tiem paredzētajos caurumos, tādēļ montāžas inženieris ir ar rupju vīli pēc korpusa krāsošanas tos 'pielabojis'. Taču, aristokrāti nav sīkumaini (C) VS. Turklāt manu elektroniķa sirdi silda apziņa, ka A.Lejiņa projektētā iespiedplate ir paraugstunda pasaules līmenī, tātad kastes iekšpusē visam jābūt kārtībā.
Viss, izņemot priekšpaneli, atstāj solīdu iespaidu, izmantotā furnitūra neatpaliek no citu ražotāju mūsdienās izmantotās. Aplūkojot Coneq priekšpaneli, nākas secināt, ka, piem. Behringer produkcija USD300..500 cenu kategorijā izskatās smalkāk, mūsdienīgāk (moderni LCD, gaumīgas podziņas, diskrētie grozāmrokturi ar push funkciju, u.t.t.).
Esmu redzējis arī Lietuvā izgatavotu Coneq demo paneli, kas izgatavots no frēzēta alumīnija, bet kaut kādu iemeslu dēļ šis (neapšaubāmi - iespaidīgāks risinājums) netika izmantots. Coneq priekšpanelī izvietotas 8gab. 3mm gaismas diodes, kas rāda signāla līmeni, un 2 pamatpogas: on/off un galvenā poga – bypass, kas ļauj operatīvi ieslēgt/izslēgt maģisko AFL linearizēšanas efektu.
Saprotot situāciju, ka uzņēmumam, kurš ražo produktu eksperimentālo partiju līmenī, nav racionāli (gan kapitālieguldījumu, gan laika resursu ziņā) pasūtīt podziņu, paneļu, u.c. komponentu presformas, šo produktu mēģinu uztvert kā tehnoloģijas demo līdzekli. Vēl jo vairāk – tieši kā pārejas posms šis produkts arī paredzēts pirms tehnoloģijas integrēšanas citos produktos: TV, mobilajos telefonos, u.c. (uzņēmuma info).
Cita lieta – ja produkts maksā ap 2K Euro, tā dizainam vajadzētu būt atbilstošam, bet, var jau būt, ka tikai piekasos.
Savulaik, kad biju RSL produkta demonstrācijā Ziemeļu rajona izpilddirekcijā, paudu savu svētu sašutumu: ieslēdzot Coneq īpašo pienesumu, apskaņošanas vidējais skaļums tika būtiski (par 4..7db) paaugstināts. Ja līdz tam (zāles vidējā daļā, kurā atrados es) skaļums bija fona līmenī, tad, loģiski, pēc tā pacelšanas skaņa kļuva 'sulīgāka, pilnīgāka', uzlabojās tās detalizācija un mikrodinamika [nerunājot par to, ka efektīvāk tiek izmantotas ADC un DAC iespējas un jaudīgu jaudas pastiprinātāju potences]. Tas ir tikai un vienīgi loģiski, un nekādi nesaistīts ar kaut kādiem AFL labojumiem.
Līdz šim domāju, ka izgudrojuma autors toreiz nedaudz 'šmaucās', lai pastiprinātu efektu, bet lieta izrādās vēl interesantāka:
Coneq izmēra AFL, nosaka AFL 'izklupienu' absolūto minimumu un maksimumu, un visu spektra komponenšu līmeni nolīmeņo it kā pēc matemātiskā vidējā līmeņa. Tātad, ja kādā spektra daļā ir kritums (kas būtu jākompensē, palielinot atdevi lokāli, šajā joslā), visi pārējie toņi tiek neadekvāti pastiprināti- ikdienišķa situācija, jo izstarotājiem parasti frekvenču joslas galos ir būtisks atdeves kritums. Tas nozīmē, ka signāla vidējais līmenis parasti paaugstinās līdz pat par 10..15dB un vairāk (atkarīgs no sākotnējās AFL nevienmērības un maksimālās korekcijas ierobežojumiem). Manuprāt, tas ir nekorekti, rupji, lēti, prasti (piedodiet, vārdi beidzās, palika tikai burti). Izgudrojums, kurš tiek prezentēts kā akustiskās jaudas izlīdzinātājs, to nedara pašā saknē.. Piemēram, auto audio skaņas sacensībās skaļuma līmenis tiek noteikts p.1 (acīmredzot, kā svarīgākais parametrs, ja dalībnieks mēģina pārsniegt tā līmeni virs 88db, tiesneši nekavējoši iejaucas un koriģē to), un p.1 un p.4 EMMA noteikumos paredz striktu līmeņa kontroli ar mēraparatūru.
Bet, jāpiebilst, ka šī nav ne pirmā, ne vienīgā divdomīgā situācija. Piemēram, izgudrojuma autors apgalvoja (iepriekšminētajā prezentācijā), ka arī interferences problēmas apskaņošanas sistēmu pīkstuļiem Coneq varot atrisināt. Jebkuram, kas kaut mazliet saprot, ko nozīmē interference, taps skaidrs, ka tāds apgalvojums ir nepatiess.
Vai arī - uz manu tiešu jautājumu 'vai kā testu signāls tiek izmantots sweep (šādi žargonā elektroniķi akustiķi sauc augošas/dilstošas frekvences signālu, ko izmanto gan elektrisku, gan akustisku traktu AFL mērīšanai un analīzei)? (jautājumu uzdevu vēl tad, kad programnodrošinājums plašākai publikai nebija pieejams, man tajā skaitā) Raimonds Skurulis man atbildēja: 'nekas tamlīdzīgs. Tas ir burst – manis izgudrots īpašs signāls'.. man jau kopš bērnības mācīja nemelot, kur nu vēl tādos gadījumos, kad meliem tik īsas kājas. Kā mums pastāsta, piem., wikipedia, mūsdienās šādu signālu sauc 'up-chirp', pat formulas ir dotas – nekā jauna/izgudrojama.
Tātad: Coneq izmanto sweep (up-chirp) signālu visklasiskākajā tā izpratnē – bez markiem jeb īpašām atzīmēm. Lai izvairītos no sistēmas tvīteru joslas pārslodzes, chirp līmenis (spektrālais blīvums) tiek koriģēts: virs 500hz ar stāvumu -6db/okt.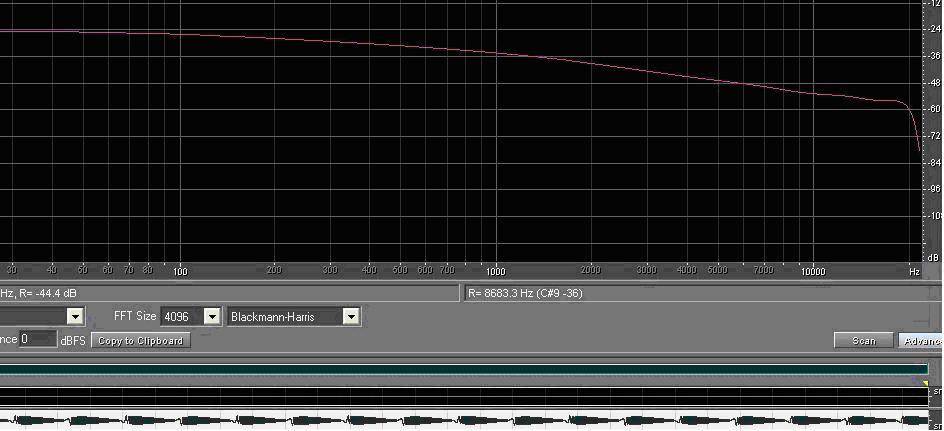 Atgriežoties pie bypass slēdža, vienbalsīgs bija vērtētāju viedoklis - tā izmantošana pēc izgatavotāja algoritma ir lēta šmaukšanās, Coneq efekta un tembrālās korekcijas novērtēšana (izmantojot bypass slēdzi) nav iespējama.
Tādēļ www.mobileaudio.lv komanda katru reizi mainīja pastiprinātāja ieejas jūtību, lai visos testu gadījumos (ar ieslēgtu/izslēgtu AFL linearizēšanas algoritmu) būtu vienādi testēšanas nosacījumi (vienāds subjektīvais fonogrammas skaļums).
Viens no mani visvairāk interesējošiem testiem – veikt AFL korekciju ar Coneq, un pēc tam atkārtot mērījumus ar paša Coneq līdzekļiem. Ja Coneq algoritmi strādā, atkārtotam mērījumam vajadzētu uzrādīt lineāru AFL (vai tuvu tai; atļaušos piezīmēt, ka, piem., Behringer šo testu veica teicami). Lai atvieglotu mērījumus (un uzslēgtu spekulācijas par tēmu – katru reizi mērījumu metodika atšķīrās), novietojām mikrofonu nekustīgi – vienā pozīcijā. Testu rezultāti redzami zīmējumā. Mērījumi tika veikti atkārtoti, iegūstot ļoti līdzīgus rezultātus. Secinājums: acīmredzot, ir kādas rupjas kļūdas vai nu mērīšanas vai datu apstrādes algoritmos.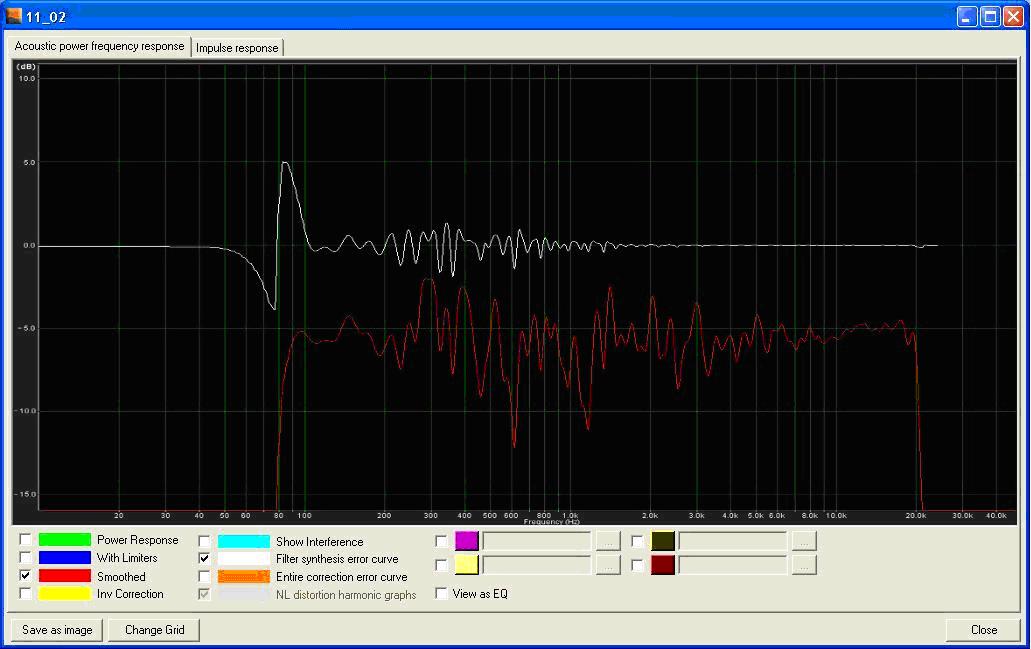 Domāju, ka produkta izstrādātājiem šādu testu vajadzētu veikt pirms produkta laišanas apritē – tas taču parāda produkta veiktspēju (self-test). Par kādu high-end skanējumu mēs varam runāt, ja pats Coneq rāda, ka ir 'NEizkompensējis' AFL ar 'precizitāti' +/-6dB (kaut iepriekš, korekcijas sintēzes brīdī – līknes rādīja, ak AFL būšot lineāra), ar ļoti rupjām nepilnībām joslā 300..1500Hz (kas ir viskritiskākais diapazons – solistu vokāli un lielākā daļa akustisko instrumentu spektrs ir koncentrēts tieši šajā joslā; testam tika izmantota 2 joslu estrādes skanda, tās sākotnējā AFL attēlā zemāk).
Skandas tips: 2joslu tops
Frekvenču josla: 70..20Khz, +/-3db
Jūtība: 103db/1W/1m
Tilpums: 68L; porta regulējums: 70Hz
Skaļruņi: ZF- 18Sound 15MB700 + AF- Beyma CP380/M (horn: Selenium Hm25-25)
Dalījuma frekvence: 1.5kHz
Otra nianse, kas liecina par kļūdām matemātisko aprēķinu veikšanā: izteikta tendence koriģētajā AFL izveidot 'pacēlumu' ap 8Khz un līmeni ap +5db.
Coneq koriģētā AFL tika pārbaudīta gan ar 'rozā' troksni, gan ar DSSF5e programmatūru – abas uzrādīja AFL kāpumu ap 8kHz un līmeni ap +5db.
Šī defekta rezultātā skanējums kļūst 'agresīvs, griezīgs', nepieciešama šo frekvenču manuāla papildkorekcija (pazemināšana). Šo īpatnību atzīmē visi (ar ko esmu runājis), kas ir klausījušies Coneq koriģētas līknes ne bezcerīgām akustiskajām sistēmām. Piebilde: mērmikrofons atradās it kā ideālā situācijā: 1.5m attālumā, skandas ģeometriskajā centrā, pietiekoši tālu no sienām.
Vēl viena 'īpatnība', jeb iespējama kļūme algoritmos: Coneq stabili uzrādīja problēmas 2.5kHz rajonā [kā redzam grafikā, it kā kritienu pat zem -10db]. Koriģējot AFL ar Coneq, vokāli ieguva ļoti agresīvu pieskaņu.
Kā izrādās, šajā diapazonā minētajai skandai ir fāzu problēmas [mainīga izstarotā signāla fāze], ko, acīmredzot, Coneq signāla apstrādes algoritmi analizēja nekorekti. Viļņveida svārstības AFL, manuprāt, norāda uz interferenci jeb atstaroto signālu iekļūšanu mērīšanas algoritmos [ja tic tehnoloģijas aprakstam, tas tā nedrīkstētu notikt].
Nākošā, manuprāt, rupjā 'laža': AFL nolasītajam un spoguļveida/koriģētajai AFL ir vienāds datu formāts (atšķiras tikai failu paplašinājumi). Abas šīs līknes ir iespējams ievadīt Coneq. Turklāt, ievadot 'nepareizo' līkni, neparādās nekādi brīdinoši paziņojumi. Attiecīgi, neuzmanīgāks vai nesagatavots lietotājs (kā arī mums pāris reizes nejauši sanāca) viegli var nepareizi nokonfigurēt produktu, un pilnīgi vilties skanējumā (kurš tiek papildus kropļots, nevis izlabots). Kā izrādījās vēlākās pārbaudēs, iekārtai ir nopietnas problēmas ar ievadāmo failu formātu. Iekārta strādā vienā/konstantā bitrate, ja ievadāmais fails nav sagatavots tādā pat bitrate, iekārtas darbība ir neprognozējama. Augstas klases elektronikas inženierim nācās pavadīt pusi dienas, lai panāktu iekārtas darbspēju.
Programnodrošinājuma aplikācija atgādina inženieru testa produktu pašu vajadzībām. Vienā izvēlnē 'sabāztas' visas iespējamās opcijas un vadības spiedpogas; nezināmu iemeslu dēļ mērīšanas aplikācija ir pilnīgi atdalīta no papildus EQ un Coneq vadības aplikācijām. Kā 3 atsevišķi produkti.. Manuprāt, produkts ir tik 'zaļš', ka uzskaitīt tā nepilnības nav vērts/racionāli (ja produkta izstrādātājiem ir vēlme, savu zināšanu ietvaros varu nākt talkā)..
Minēšu tikai statistiku: vienīgā opcija, kuru bija akūta nepieciešamība izmantot, bija nodefinēta nekorekti/neskaidri (maksimāli pieļautā korekcija spektra galos apzīmēta ar zīmi '-', kas izraisīja neizpratni).
Bet, lai jau paliek tādi sīkumi. Mums, tehniski orientētiem cilvēkiem šādas nepilnības netraucē darboties ar Coneq. Ko tad īsti Coneq dara?
Kā apgalvo produkta ražotāji, šis ir pirmais akustiskās jaudas korektors. Ar to uztverot, ka tiek mērīta nevis AFL konkrētā punktā, bet gan skaļruņu kopējā izstarotā (no elektriskās transformētā) akustiskā jauda.
Šeit gan man ir daži iebildumi. Kā tad ar Berhinger, kas iesaka mērīt AFL vairākos telpas punktos? Kā ar Alpine piedāvāto Imprint autokorekcijas sistēmu, kas rosina veikt mērījumus katrā no klausīšanās vietām un ap 500 AFL punktos? Kā ar citu ražotāju produktiem? Nevienam nebija ienācis prātā ko tik triviālu (tieši šo n telpas punktu summāru apstrādi) patentēt? Tas gan. Paši vainīgi.
Par 'akustisko jaudu' Coneq izpratnē runājot: vai Pētera (kurš sēž zāles 1.rindā) ausīm ir būtiski, kāda akustiskā enerģija tiek izstarota Jāņa (kurš sēž pēdējā rindā) sēdvietas rajonā? Man sķiet, ka nē (šeit domāju tiešo lauku). Un arī Coneq izpratnē nē (kā apgalvo izstrādātāji, Coneq neņem vērā atstaroto signālu un telpas akustikas īpatnības).
Mērīšanas metodi [ar to interesenti var iepazītes patenta aprakstā], kas vienā tipveida situācijā piedāvā staigāšanu ar mērmikrofonu gar telpas perimetru un tad pa diagonāli [manuprāt, nepamatoti, neloģiski] nespēj[a] izskaidrot ne patentu pilnvarotie, ne kāds cits no 'pietuvināto' loka.
Vienkāršoti runājot (atmetot virkni nekonkrētu un neko neizsakošu teikumu pieejamajos materiālos par produktu) – ar šo te 'akustiskās jaudas' mērīšanu tiek novidējota AFL mērīšanas punktos. Un no mērījumu veicēja ir pilnībā atkarīga, kāda beigās būs kopējā koriģētā AFL. Coneq nekādā veidā nepārbauda/nekontrolē šo mērīšanas procesu. Manā izpratnē, Coneq tehnoloģijas pienesums: pārvietojot mikrofonu pa zāli, nav nepieciešams ne domāt, ne skatīties, kas 'notiek' spektra analizatora ekrānā (no produkta ražotāja viedokļa), pietiek tikai ierakstīt 'burstu'. Rezultāts? Neprognozējams.
Turklāt, piemēram, ja parasti skaņu inženieri regulēja skaņu FOH (tehniskais tornis) tuvumā, akcentējot un saprotot, ka zāles/stadiona centrā būs viskvalitatīvākā skaņa, tad Coneq piedāvā – staigājiet pa stadionu un vidējojiet rādījumus (lai programmatūra vidējo). Vēlme ir – lai labi skan visur, bet rezultātā – vienmērīga AFL būs.. mēs nezinām, kur.
Coneq stiprā puse, neapšaubāmi, ir filtru joslu skaits. Arī šeit būs dažas iebildes. Tik šauru joslu filtru (pēc noklusējuma Coneq piedāvā 4096 joslas) lietderība nav konstatēta (jo asus/ar augstu labumu AFL 'izklupienus' rada skaļruņa difuzora nelielu virsmas laukumu lokālas rezonanses, atstarojumi gar piekari un skandas korpusa izgriezumu malām, u.c., un to izcelsmes un pārejas procesi būtu jāpēta nopietnāk). Ir skaidrs, ka pie tik liela filtru skaita DSP strādā tuvu savu iespēju maksimumam. Programmētāji izmanto dažādas viltības resursu ekonomijai, kas, loģiski, noved pie filtru pamatfrekvenču nobīdēm, to pārejas procesu pasliktināšanās, kropļojumu pieauguma. To, vai koriģētais rezultāts atsver visas blaknes, var novērtēt tikai klausoties high end līmeņa aparataūru atbilstošā telpā. Un, ja klausīšanos veic eksperti ar sagatavotu dzirdi. Cik zinu, RSL šādas prezentācijas, diemžēl, nerīko (demonstrējot tikai to, ka AC6, S90, u.c. arhaiska tumba var skanēt 'labāk').

Nobeigumā īss info par subjektīvajiem testiem.
Pirmo www.mobileaudio.lv biedri testēja Andante series 100 DJ monitoru.
Skanda ir 2 joslu, 4''midbass ar FI, filtrs uz tvīteri: HPF 3khz, 1.kārtas. Coneq būtiski pacēla vidējo AFL līmeni, papildus paaugstināja pievadāmo elektrisko jaudu zemfrekvences diapazonā. Tobrīd iepriekšminēto viltību ar 'bypass' vēl nebijām atklājuši, tādēļ subjektīvi likās, ka skanda ir 'atdzīvojusies'.
Testējot nopietnāka līmeņa skandas (18sound 15'' midbass un Beyma tvīteris, vai RCF 15'' midbass un Selenium 220 tvīteris) un izlīdzinot skaļumu (manuāli to koriģējot pēc Coneq), netika atzīmēts nekāds subjektīvs uzlabojums skanējumā. Salīdzinājumam: Behringer korekti izlīdzināja AFL (kā jau minēts, Coneq tas neizdevās), un tā skanējums bija prognozējamāks. Mani pārsteidza, cik 'plakanu' skaņu izveido Coneq, ja mērīšanu veic nelielā telpas vietā (un turpat arī veic klausīšanos). Ja kāds vēlas dzirdēt, kā iespējams atņemt skanējumam visu dziļumu, draivu, niansētību, aicinu pieslēgt Coneq.
Te gan neliela piebilde. Spriežot pēc spēcīgās korekcijas 200Hz un šī toņa harmoniku joslās, Coneq inženieriem nav izdevies neņemt vērā telpas atstarojumus. Tas gan nav nekāds pārsteigums – es, piem., neņemtos izstrādāt programnodrošinājumu, kurš sekundes desmitdaļu garā sweep signālā, kas pārklāj visu dzirdamo frekvenču spektru (no 20Hz līdz 20Khz) atlasītu primāro (tiešo, akustiskās jaudas) signālu no atstarojumiem.
Labā ziņa – Coneq spēj līdzēt gadījumos, kad skandas sākotnējā AFL ir ļoti slikta (piemērs ar spaiņiem): to daļēji izlīdzinot un būtiski (nekorekti) palielinot vidējo skanējuma skaļumu (un elektrisko pievadāmo jaudu), tas rada sajūtu, ka ir panākts kāds uzlabojums. Coneq var būt noderīgs skaņu ierakstu studijām, lai iegūtu references AFL, skaņu inženierim mainot studijas. Bet, 'pateicoties' tam, ka Coneq autonomi nespēj strādāt (pat iegaumēt un pārslēgt pāris presetus), katru reizi jāslēdz kvalitatīva skaņas karte, dators. Atvainojiet, murgs.
Pirms neilga laika manā rīcībā nonāca RSL patenta apraksts. Šī informācija ir publiski pieejama, jo Latvijas Patentu valde ir izsniegusi RSL patentu. Zemāk seko neliels izraksts no manas šī patenta analīzes.
'Izgudrojuma [RSL] autors ir pamanījis iepriekšminētos trūkumus [ka AFL mērīšana vienā telpas punktā nav korekta - KS piebilde], taču nav piedāvājis konkrētu, zinātniski pamatotu, vai pētījumu rezultātā izstrādātu mērīšanas metodiku, vien aprobežojoties ar vispārīgiem ieteikumiem. Turklāt, izgudrojumam piemīt sekojoši galvenie trūkumi:
Iekārta [metode] nekādi nekontrolē [pat nerunājot par procesa vadīšanu] operatora darbības [metode/iekārta 'nezin', kurā telpas vietā/punktā un kā tiek veikti mērījumi]. Tas nozīmē, ka mērījumu rezultāts ir tikai un vienīgi atkarīgs no operatora kvalifikācijas un rīcības [nomērīto parametru kopums – nav paredzams]. Iekārta neņem vērā klausītāju atrašanās vietu/vietas un prioritātes. Iekārta nav kvalitatīvi specializēta stereo un daudzkanālu mērījumu veikšanai [tādā gadījumā nepieciešama gan pilnīgi atsevišķu, gan kopīgu mērījumu veikšana], jo testa signāls nesatur nekādus identifikatorus. Turklāt mērīšanas mezgli ir jūtīgi pret traucējumiem – fona skaņām, jo nav pietiekamas to kontroles un/vai slāpēšanas. Iekārta nekādā veidā neanalizē [metode to neparedz] telpas vēlīnos atstarojumus, kas var novest pie tā, ka [lielākās telpās] vēlie atstarojumi pienāk nākošā [aiznākošā, u.t.t.] testa signāla laikā, un sabojā mērījumus. Ņemot vērā, ka katrai testa signāla komponentei ir savs/atšķirīgs sākuma brīdis, bez papildus katras komponentes rimšanas līknes apstrādes moduļa [tāds metodē nav paredzēts] un bez papildus laika aiztures [īso aizturu saņemšanai pēc pamatsignāla beigām, arī šāds būtisks modulis nav paredzēts] 'loga' metodes [kas izmantota moduļos 20 un 21] darbība korekti nav iespējama'. To, ka mana piebilde par bloku 20; 21 darbību ir pareiza [skat. Patentā redzamo iekārtas blokshēmu], netieši apliecina reāli testi. Šo bloku darbība tika testēta tukšā [tātad – ar īsajām un vēlīnajām reverberācijām bagātā] 16m2 istabā ar paralēlām sienām. AFL, ko koriģēja iepriekšminētais Behringer pēc rozā trokšņa [un bez vēlīno atstarojumu izslēgšanas iespējas], un Coneq aprīkojums, kas it kā atfiltrē vēlos atstarojumus, sakrita ar precizitāti, zemāku par iekārtu izšķirtspēju [zem 1db]. Secinājums – acīmredzot, vai nu iepriekšminētie 'loga' algoritma moduļi nav ieintegrēti Coneq, vai tie nedarbojas.

Ar Coneq darbību jebkurš bez maksas var iepazīties SIA ElPee mūzikas ierakstu veikalā Ģertrūdes ielā. Aptaujātie interesenti [cilvēku bez atbilstošas dzirdes to vidū nav] manīja atdeves samazinājumu zemo toņu diapazonā, nemanot pilnīgi nekādas atšķirības vidējo un augsto toņu joslās [korekciju veica pats izgudrotājs - Skurula kungs, korekti izlīdzinot kopējo akustisko jaudu manuāli].
kaspich teksts, kevins mērījumi u.c. dalībnieki